Erectile dysfunction: Fall from Olympus
Revenue generated by Pfizer's Viagra worldwide during the years 2003-2019
Viagra is a world-famous drug for erectile dysfunction, the famous "magic blue pill", which is the brainchild of the US pharmaceutical company Pfizer. Its active ingredient is Sildenafil citrate. While sales of Viagra have declined over the past few years, the drug generated about $500 million in profits for Pfizer in 2019. Meanwhile, in the year 2003 profits from Viagra amounted to almost $1,9 billion. In 2012, revenue reached a historic high of $2 billion. The question arises, why a drug that has enjoyed almost absolute patient confidence for more than twenty years has begun to show the decline in sales that has been observed over the past seven years? One of the main factors that contributed to the decline in sales of branded Viagra was the emergence of generics of this drug. It was a direct consequence of the expiration of patent protection for a branded drug. Until 2012, Pfizer was the patent holder for Viagra, which meant his unique right to produce a drug with this composition. In 2012, the patent protection of Viagra in many countries of the world expired, and almost any pharmaceutical company received the right to produce generics. Although the patent is valid until 2020 in the US itself, several manufacturers have already received permission to sell Viagra generics in the United States. The result of the emergence of more affordable generics, quite naturally, was the decline in sales of the original Viagra in 2017 – 2018.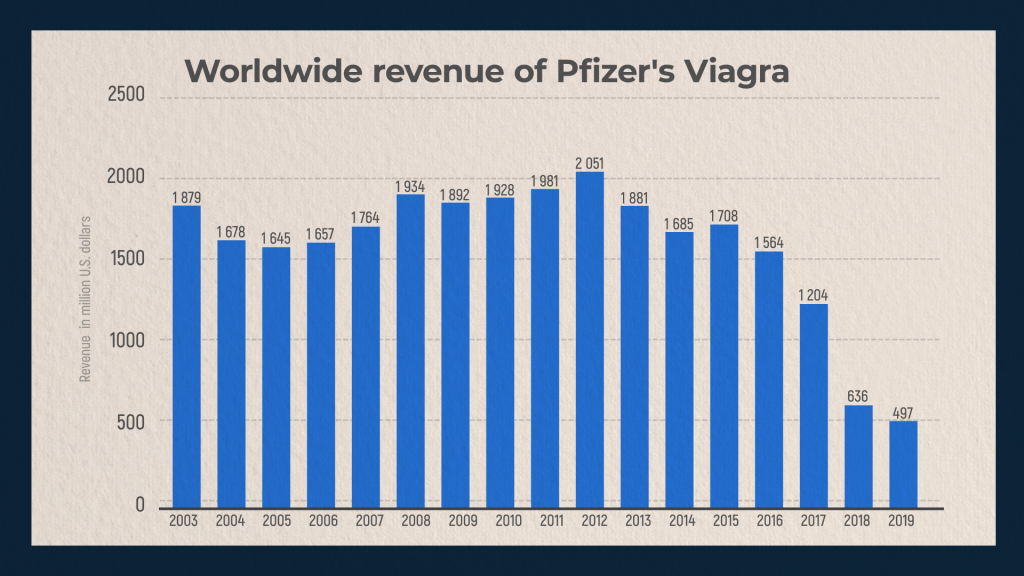 Some information about the manufacturer Pfizer
Pfizer is one of the largest pharmaceutical companies in the world, founded back in 1849 by two Pfizer cousins. Today it is a multinational company headquartered in New York City in Manhattan. Pfizer makes a variety of both prescription and over-the-counter drugs.
Until 2013, Pfizer had a special division engaged in the production of animal health products - Pfizer Animal Health. Then this division was transformed into a separate company Zoetis, which produces not only medicines for animals, but also various diagnostic kits and equipment for use in veterinary medicine. Pharmaceutical giant Pfizer itself has focused exclusively on medicines for people, with the company's activities spanning two main areas: innovative health and mainstream health. Despite the company's transnational nature, nearly half of Pfizer's revenue is generated in the United States.
How Viagra reached the top
Today's most famous drug for treating erectile dysfunction symptoms, Viagra was not originally intended for use in this field of medicine. The scientists who developed Sildenafil citrate, the active ingredient of this drug, expected that it would be used in the treatment of hypertension, angina pectoris and pulmonary arterial hypertension (PAH). However, the history of medicine has many cases when scientists and doctors made unexpected discoveries, in particular regarding the scope of a particular drug. This is exactly the situation that happened with Viagra, more precisely, with Sildenafil citrate, since at that time the trade name of this drug had not yet been registered. Sildenafil proved to be ineffective in the targeted therapy of angina pectoris. He demonstrated efficacy against pulmonary arterial hypertension, but during clinical trials, it became clear that the new drug has a much more tangible effect on male potency. In addition, it was impossible not to take into account the commercial potential of such a method of using Sildenafil as the treatment of ED and the restoration of potency. As a result, in 1998, Pfizer's new product was registered under the trade name Viagra and was approved by the FDA for sale as an oral drug for the treatment of erectile dysfunction. The second item in the classification of Viagra is its use in the treatment of PAH. This drug effectively improves the condition of patients with PAH, but in this role, it doesn't receive media attention.
Even today, Viagra from Pfizer is one of the most famous and widely discussed drugs for the last at least thirty years. It has firmly entered popular culture and has become strongly associated with the concept of powerful potency. Most men, if asked about what drugs for erectile dysfunction they know, only name Viagra.
Other claimants to the throne
As it can be seen, sales of branded Viagra, despite all its popularity, have fallen by an average of 4 times in recent years. What drugs have replaced the famous blue pills, which seemed to forever occupy the pharmaceutical Olympus of anti-ED remedies?
It is not surprising that among all the drugs that exist today to increase potency, which belong to the group of PDE-5 inhibitors, like Viagra, there was no one that would become a serious competitor for it. They occupy several other niches, and although they are also quite popular, they are not able to push Viagra from its throne. Branded Viagra is being replaced by its closest relatives: generics. As everyone knows from detectives, if a crime is committed, the perpetrators must be sought first of all either among the neighbors or among the relatives of the victim. All generics are full-fledged analogues of branded Viagra, all contain the same active ingredient Sildenafil citrate. For the most part, they even duplicate the dosage of the original medicine and try to make the shape and color of the pills resemble Viagra from Pfizer.
The list of upcoming branded Viagra on the heels of generics is quite large. Today, the global pharmaceutical market boasts more than 20 new popular Viagra generics. Next, we will consider the most exotic of them, which are therefore of particular interest both to us and to target consumers.
Kamagra Polo
Kamagra Polo
Manufacturer:
Ajanta Pharma LLC
Active ingredient:
Sildenafil citrate
Dosage:
100 mg
Packing:
4 tablets in a strip
Kamagra Polo is a generic of Viagra that contains 100 mg of the active ingredient Sildenafil citrate per pill. This is the maximum dosage that can be taken per day without harm to health. This Indian-made medicine is of high quality and is of particular interest to men struggling with severe erectile dysfunction. A large dosage guarantees getting rid of potency problems even in severe cases of physiogenic or psychogenic erectile dysfunction. Often, due to its low cost, it is also purchased by patients with PAH who need to take this medicine daily. Kamagra Polo can be purchased at online pharmacies, regular pharmacies, and some licensed medical supply stores.
Avana
Avana
Manufacturer:
Sunrise Remedies pvt. LLC
Active ingredient:
Avanafil citrate
Dosage:
50 mg, 100 mg, 200 mg
Avana is an oral drug in the form of film-coated tablets used in the treatment of erectile dysfunction. We included it in the list of Viagra generics, despite the fact that the active substance of Avana is not Sildenafil citrate, but Avanafil citrate, on the basis that it practically does not differ from Sildenafil in its characteristics. The only difference that consumers pay attention to is that Avana has a faster action than Viagra, starting to act within 15-25 minutes after ingestion. Like Viagra, Avana should be taken on demand, about half an hour before sexual activity (instead of an hour). The duration of action of the drug is about 4-5 hours. Some patients believe that Avana, which was approved by the FDA in 2012, causes fewer side effects than Viagra, but these claims have not yet been confirmed in clinical trials.
Eriacta
Eriacta
Manufacturer:
Ranbaxy Laboratories Ltd.
Active ingredient:
Sildenafil citrate
Dosage:
100 mg
Eriacta is one of the Indian-made Viagra generics, produced in the form of film-coated pills for oral administration. The maximum dosage of Sildenafil makes it possible to achieve satisfaction in bed even for those men who have long forgotten what a full-fledged sex life is. If the violation of potency is not very strong, the tablet can be divided into two parts and taken 50 mg about an hour before sex. The restoration of potency brings harmony to the relationship between spouses or lovers, and a thorough purification of the active substance ensures the minimization of side effects compared to branded Viagra.
Caverta
Caverta
Manufacturer:
Ranbaxy Laboratories Ltd.
Active ingredient:
Sildenafil citrate
Dosage:
50 mg, 100 mg
Caverta is an Indian generic of Viagra that has proven itself among consumers. This is a worthy analogue of branded Viagra, which, for the convenience of customers, is available in dosages of 50 and 100 mg. The first option is great for patients with moderate erectile dysfunction, the second - for those whose potency problem is more serious. If a man has minor potency disorders or just intends to use Caverta in order to be sure that there is no misfire at the most crucial moment, it is possible to divide the 50 mg tablet into two parts. The resulting 25 mg is the minimum effective dosage of Sildenafil, which, like others, should be taken about forty minutes or an hour before sexual activity. It is worth noting that the lower the dosage, the stronger the food eaten before or during the intake of the pill affects its absorption into the blood.
Fildena
Fildena
Manufacturer:
Fortune Healthcare Pvt. LLC
Active ingredient:
Sildenafil citrate
Dosage:
25 mg, 50 mg, 100 mg, 150 mg, 200 mg
Fildena, a generic Viagra with the active ingredient Sildenafil citrate, is available as film-coated tablets in a wide range of dosages. Due to the large selection of dosages, the drug is suitable for combating erectile dysfunction in men with varying degrees of severity of this disease. From the description of Fildena you can see the presence of two unusual dosages: 150 and 200 mg. Pills with such dosages are not intended to be taken as a whole, since the maximum safe dosage of Sildenafil is 100 mg. Thus, the 100 mg and 200 mg tablets must be divided into two parts before taking. As a result, the patient receives either 75 mg (an intermediate dosage, interesting for those who do not want to take the maximum dosage, but 50 mg is not enough), or 100 mg.
Sildalis
Sildalis
Manufacturer:
Cipla
Active ingredient:
Sildenafil Citrate, Tadalafil
Dosage:
100 mg Sildenafil citrate + 20 mg Tadalafil
Sildalis is an Indian drug for a powerful increase in potency, which is produced by the pharmaceutical company Cipla. As follows from the information about the active ingredients, Sildalis is both a generic of Viagra and Cialis, as it combines the active ingredients of both of these drugs. This is a unique development that has no brand analogues. Thanks to the combined composition, the duration of the drug is significantly extended, and men can enjoy sex without problems for 30-36 hours. Tadalafil is responsible for such a long duration of the effect, and Sildenafil is responsible for its strength.
Aurogra
Aurogra
Manufacturer:
Aurohim
Active ingredient:
Sildenafil citrate
Dosage:
100 mg
Aurogra is a generic version of Viagra manufactured by a well-known Indian pharmaceutical company. Like other Viagra generics, Aurogra is taken on demand about an hour before sexual activity. A dosage of 100 mg provides a strong erection for at least 5 hours after the intake, but only in the presence of sexual arousal. Aurogra has fewer side effects than branded Viagra.
Conclusions
Competition is the engine of progress in all areas of our lives, and medicine is no exception. Some conservatives may grumble that it's not good for proven, reliable drugs to give way to more modern new ones, but it is essential to keep up with the times and look for more effective approaches even to already known drugs. Generic manufacturers demonstrate that the original Viagra can be improved so that patients experience fewer side effects and can enjoy the effects of the drug longer. Today, it is generics that are the locomotive of progress in the treatment of erectile dysfunction, and mainly generics of Viagra.